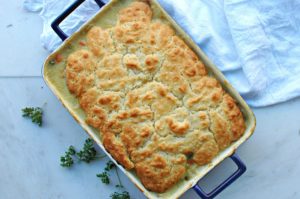 I have a confession to make. I don't like making pie crust. I enjoy making just about anything, even recipes that are longer and more complicated. But for whatever reason, no matter what recipe I use, no matter what method I use, I do not like making pie crust. I've tried using butter, shortening or a mix of the two. I've used water and vodka in the crust. I've used super cold butter. I've used a pastry cutter, a food processor, and made it by hand. My dad, who makes flawless pie crust every time, has shown me exactly how to do it and the perfect pie crust still eludes me. I do love eating pie though, and apple pie is one of Kevin's favorite desserts, so I do make pie crust for our enjoyment.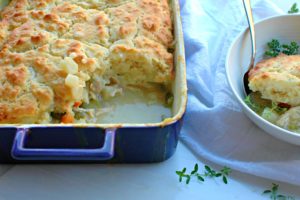 Making a pie crust for a delicious pie filled with tart apples, juicy berries, or any number of delicious fruits is a sacrifice I'm willing to make. But for pot pie? You can skip that step and not even miss it. The flakey, buttermilk biscuit topping for the creamy pot pie filling will make you forget you ever had chicken pot pie any other way.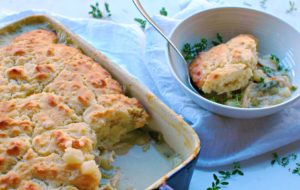 And as a bonus for all you busy people out there (i.e. everyone), not making a pie crust saves a lot of time if you're looking to whip up dinner a bit more quickly. If you're going to make it ahead, I recommend making the filling and then making and adding the biscuit topping just before baking.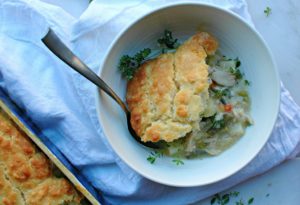 Sometimes when I make one-pan meals like this, I think that they would be perfect to bring to a new mom. I have been very fortunate to be surrounded by friends who have brought meals after both our kids were born. As much as I love cooking, in those exhausting early newborn days I can't cook anything that requires two hands. If you know someone who's expecting a baby, especially in the fall/winter, this is the perfect dish to bring to the family.

Biscuit Topped Chicken Pot Pie
Prep time:
Cook time:
Total time:
Ingredients
2 tbsp. olive oil
2 stalks celery, diced
½ yellow onion, diced
3 cloves garlic, minced
3 tbsp. all-purpose flour
12 oz. frozen mixed veggies
3 cups cooked shredded chicken
3 cups peeled and diced russet potatoes
2 cups milk*
3 cups broth
1 tsp. salt
¼ tsp. ground black pepper
½ tsp. ground sage
½ tsp. ground thyme
For the biscuits:
2 cups all purpose flour
1 stick butter, chilled
1 tsp. salt
1 tbsp. baking powder
1 cup buttermilk
Instructions
Preheat oven to 375 degrees Fahrenheit.
In a large pot, heat olive oil. Add celery, onion, and garlic and cook until translucent. Add 3 tbsp. flour and stir to coat.
Add frozen vegetables, shredded chicken, potatoes, milk, and broth. Bring to a boil then reduce to a simmer and cook until potatoes are tender, about 20-25 minutes.
Add 1 tsp. salt, pepper, sage, and thyme and stir to combine.
In a medium bowl, whisk together flour, 1 tsp. salt, and baking powder. Using a pastry cutter or two forks, cut in butter until butter is the size of small peas. Add buttermilk and mix until just combined.
Pour chicken mixture into a baking dish. I used an 8 x 12 dishes but any dish that fits the whole mixture and allows at least an inch of clearance to the top of the dish will work.
Drop biscuit mixture by the spoonful onto pot pie filling. Biscuit topping will spread and rise as it bakes.
Bake for 25-30 minutes until biscuits are golden brown and pot pie filling is bubbling.
Notes
* I used whole milk.