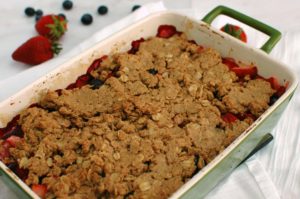 I love farmers markets, and the town where we live has an especially good one! This past weekend I took my older son, Lleyton, to the farmers market while my younger son was home napping. I scored 4 pints of strawberries that were picked the day before, instead of fresh that morning, for just $5. I knew that with strawberries that ripe and sweet, they needed to be enjoyed immediately. Lleyton showed he felt the same way and was happy to snag a few from the box himself.
This is the first time I've used coconut sugar in my own recipe! I bought some to make Dessert for Two's coconut sugar cookies from her cookbook, Sweet and Simple, and once I tried that buttery caramel sugar I knew it needed to be put into some of my own recipes. You can certainly use granulated sugar instead, but I highly recommend getting some coconut sugar for that extra flavor. I found mine at Home Goods for just $4!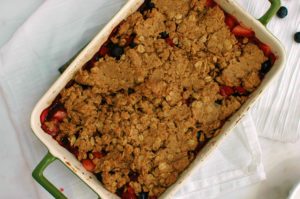 This recipe just tastes like summer. Feel free to use whatever berries you want! I used strawberries and blueberries, but raspberries and blackberries would be delicious too.

Berry Almond Butter Crisp
Prep time:
Cook time:
Total time:
Ingredients
5-6 cups fresh berries (blueberries, chopped strawberries, blackberries, and/or raspberries)
2 tbsp. granulated sugar
1 tbsp. lemon juice
2 tbsp. cornstarch
¾ cup flour
¾ cup rolled oats
4 tbsp. butter, melted
½ cup coconut sugar
¼ tsp. salt
⅔ cup almond butter
Instructions
Preheat oven to 350 degrees Fahrenheit.
Place fruit into baking pan. I used a 9 x 7 pan but an 8 x 8 pan would also work. Top with cornstarch, lemon juice, and granulated sugar and mix.
In a small bowl, combine flour, rolled oats, salt, and coconut sugar. Add melted butter and almond butter. Mix to combine.
Drop scoops of crisp mixture onto berries and spread slightly to coat.
Bake 22-25 minutes until golden brown and bubbly.
Serve with vanilla ice cream, if desired.