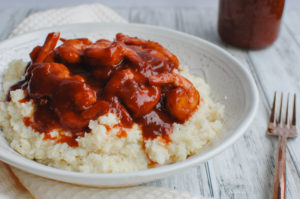 Before meeting Kevin, I had never been to the south. I had never had grits, or Chick-fil-A, or true southern BBQ. While my relationship with Chick-fil-A was love at first bite, it took me some time to come around to grits. I didn't understand the concept. To me, they seemed similar to cream of wheat, but I couldn't wrap my hand around eating this creamy mush as a savory dish. Loaded with bacon and cheese? I didn't get it.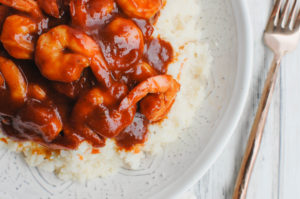 But I have seen the light. I love grits. And shrimp and grits have got to top the list of my favorite southern foods. These BBQ shrimp and grits have a homemade BBQ sauce that I'm so proud of that I could cry. Even if you think you don't like grits (for shame), bookmark this recipe for the sauce. Blend it up, brush it over chicken, drizzle it on a burger, make some finger-licking ribs, or of course, you can make these shrimp and grits.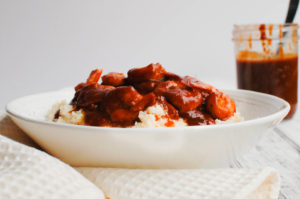 Maybe you're like me and you're unsure of grits. Loading them with cheese and topping them with juicy shrimp and just-spicy-enough BBQ sauce will make you a convert. I would bet that you're licking out your bowl and planning on having a second helping.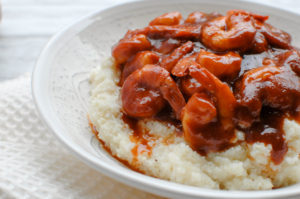 BBQ Shrimp and Grits
Prep time:
Cook time:
Total time:
Ingredients
BBQ Sauce
1 tbsp. vegetable or canola oil
½ yellow onion, chopped
3 cloves garlic, minced
¼ cup molasses
1 cup ketchup
½ cup packed brown sugar
¼ cup apple cider vinegar
1 tbsp. Worchestershire suce
2 tsp. paprika
½ tsp. chili powder
2 tbsp. yellow mustard
¼ tsp. ground black pepper
A few dashes of hot sauce
Salt to taste
1 lb. cooked, peeled, tail-on shrimp
Grits
2 cups water
½ tsp. salt
2 cups grits
2 tbsp. butter
½ cup shredded sharp cheddar cheese
¼ tsp. ground black pepper
Instructions
Heat oil in a medium-sized pot. Add onion and garlic and cook until onions are translucent.
Add molasses, ketchup, brown sugar, apple cider vinegar, Worchestershire sauce, paprika, chili powder, mustard, black pepper, and hot sauce to pot. Bring to a simmer. Taste and add salt if desired.
Use an immersion blender or transferring to a blender, blend BBQ sauce until smooth. Return to sauce to pot and place over medium heat. Add shrimp and cook until shrimp are heated through, about 10 minutes.
While the BBQ sauce is simmering, bring two cups of water to a boil. Add ½ tsp. salt. While whisking, pour in dry grits. Cook until desired consistency is reached.
Reduce heat to low and stir in butter, shredded cheese, and pepper. Remove from heat.
Serve grits topped with BBQ shrimp and serve immediately