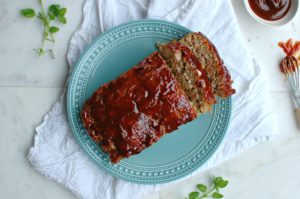 There are two camps of people with meatloaf: some love it, and some hate it. I am obviously in the camp that loves it! Growing up, I always looked forward to when we had meatloaf. I would take my slice and slather it with BBQ sauce and dig in. Kevin also loves meatloaf, and when I made this recipe each of our kids ate a whole slice and wanted more. Easton isn't even one yet, but it's clear that he's a carnivore.
When I was growing up, a variety of brands of BBQ sauce graced our refrigerator and I didn't have a favorite. When I went to West Point, I learned that the same brands of condiments are served at every table, and have been for years. Meals at West Point are served family style and all 4,000+ cadets eat every meal at the same time. From start to finish, meals take about 20-30 minutes. If you're a freshman, or "plebe," mealtime can be a little stressful. All in all, I found that the food while I was there was good, and the fact that it was served in a gorgeous building just made that a little bit better. I mention all of this because the only BBQ sauce served at West Point during my time there was Sweet Baby Rays. I became so accustomed to having it that it's now the only kind that we keep in our house as well.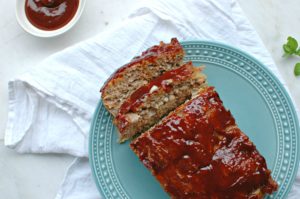 This meatloaf recipe is pretty close to the classic. Beef, onion, egg, bread crumbs, and milk are the standard  ingredients for good meatloaf. Due to my allegiance to Sweet Baby Rays, I jazzed up the classic meatloaf with BBQ sauce and cheddar cheese, because cheese makes everything better. You can use your BBQ sauce of choice, but I stand by my choice to make this meatloaf the best it could be.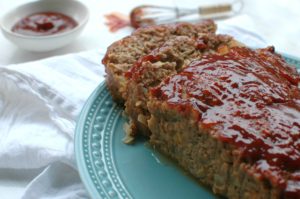 BBQ Cheddar Meatloaf
Prep time:
Cook time:
Total time:
Ingredients
1½ lbs. ground beef
1 medium yellow onion, diced
1 egg
1 cup milk (I used whole milk)
1 cup Italian seasoned bread crumbs
½ tbsp. Worcestershire sauce
1 tsp. salt
½ tsp. pepper
¾ cup cheddar cheese
½ cup BBQ sauce
Instructions
Preheat oven to 350 degrees Fahrenheit.
In a large bowl and using your hands, mix ground beef, onion, egg, milk, bread crumbs, Worcestershire sauce, salt, and pepper.
Spray a loaf pan with non-stick cooking spray and line with parchment paper, allowing enough overhang lengthwise to lift the meatloaf from the pan.
Spread beef mixture into pan.
Bake for one hour. For the last 10 minutes of cooking time, sprinkle with cheddar cheese and spread with BBQ sauce.
Let sit in pan for 10 minutes before carefully removing and serving.