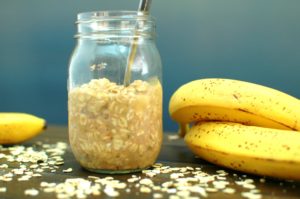 With the heat of the summer, I find my bananas getting ripe way faster than usual. I'm one of those people that doesn't eat a banana if it has any brown spots on it, which means I'm making lots of banana bread, some banana almond butter muffins that I'll have on the blog soon (!!) and now these overnight oats.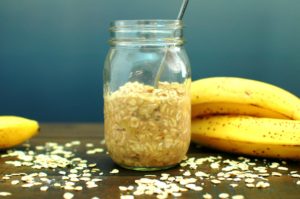 They really couldn't be easier, but they're so good and filling. I appreciate quick breakfasts as much as the next person and these are sure to be a hit. Even my toddler gobbled a bowl of these oats up for breakfast! Make them ahead for your whole family. Making them in mason jars is not only cute, but it makes transporting them a breeze if you're on your way to the office.
Add whatever toppings you want to these! I added a drizzle of honey, which is all you need with the natural sweetness of the bananas, as well as a spoonful of almond butter. Chocolate chips and chopped nuts would also make great add-ins!

Banana Bread Overnight Oats
Ingredients
1 ripe banana, mashed
½ cup rolled oats
½ cup milk of choice (I used unsweetened vanilla almond milk)
½ tsp. cinnamon
½ tsp. vanilla extract
½ tbsp. honey (optional)
Instructions
Mix all ingredients in a mason jar and let sit in refrigerator overnight, that's it!
Serve warm or cold 🙂