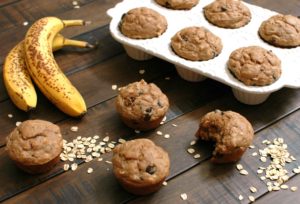 These muffins are my new favorite way to use ripe bananas! Like I said with my banana bread overnight oats, my bananas get ripe much faster in the summer and I'm always trying to think of new ways to use them up. I also recently started buying almond butter, and used it in my berry almond butter crisp.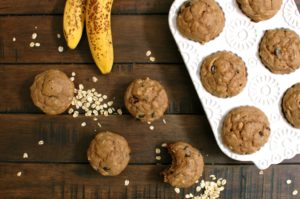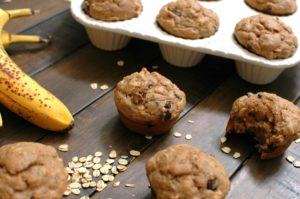 For a while I didn't understand the hype about almond butter. Obviously it's more expensive than the much more traditional peanut butter, but now that I've started buying it I'm not sure I can stop! I'll pick it up at Costo or Trader Joe's and I'm loving the flavor it adds to desserts and baked goods, or adding a spoonful to our morning smoothies.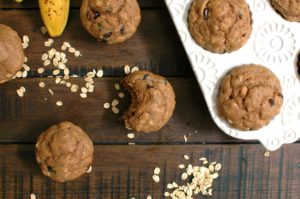 Muffins never last long in our house. Kevin and I will each have one or two for breakfast and Lleyton would probably eat the whole pan if we let him. For now, Easton just looks at us with envy and doesn't know what he's missing out on. These are so easy to make and I'm sure the won't last long in your house either!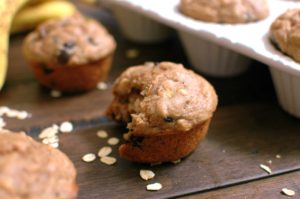 Banana Almond Butter Muffins
Prep time:
Cook time:
Total time:
Ingredients
3 very ripe bananas
1 large egg
½ cup plain Greek yogurt
¼ cup honey
½ cup almond butter
2 tbsp. oil
1 tsp. vanilla extract
1½ cups whole wheat flour
½ cup rolled oats
1 tsp. baking soda
¼ tsp. salt
½ cup chocolate chips
Instructions
Preheat oven to 350 degrees Fahrenheit and spray a muffin pan with non-stick cooking spray.
In a large bowl, mash bananas. Add egg, Greek yogurt, honey, almond butter, oil, and vanilla extract and mix to combine.
Add baking soda and salt, mix again.
Add flour and oats and combine.
Fold in chocolate chips.
Divide evenly between 12 muffin cups.
Bake for 20-22 minutes until a toothpick inserted in the center comes out clean.