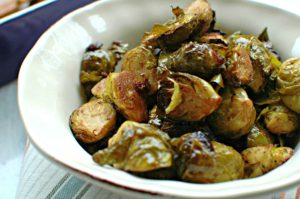 When Kevin and I first started dating, I quickly learned there were some vegetables that he didn't like. Then and now, I do 99% of the cooking in our house. Kevin is quite the grill master, but other than that, I do all the cooking. Thankfully, he's a good sport and will try anything that I make once. Among the vegetables that I learned he didn't like included squash, pumpkin, asparagus, and Brussels sprouts. Once I prepared Brussels sprouts, he became a fan with one caveat, that this be the only way that I prepare Brussels sprouts.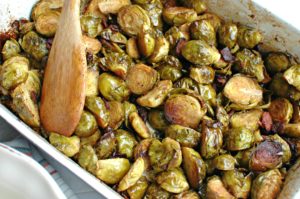 This recipe is incredibly simple: a little bacon, a little Balsamic vinegar, and of course Brussels sprouts all get thrown together and roasted in the oven. If you're looking for a Thanksgiving or Christmas side dish that requires little preparation, this is the dish for you. It's traditional to serve a few vegetable side dishes to balance out the indulgence of the other side dishes such as dressing and mashed potatoes. While you can  and should pick a few side dishes that are less time-intensive, that doesn't mean you need to skimp on flavor!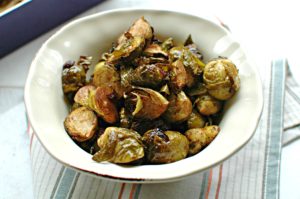 If this recipe can convince my husband that he liked Brussels sprouts, they are sure to be a favorite in your house. The fact that they're so simple to make and take just a few ingredients is an added bonus!

Balsamic Bacon Roasted Brussels Sprouts
Prep time:
Cook time:
Total time:
Ingredients
4 lbs. Brussels sprouts
8 slices of bacon
1 tbsp. olive oil
3 tbsp. balsamic vinegar
½ tsp. salt
¼ tsp. ground black pepper
½ tsp. garlic powder
Instructions
Preheat oven to 400 degrees Fahrenheit.
Cook and crumble bacon, reserving 2 tbsp. of the bacon grease.
Cut Brussels sprouts in half.
In a baking dish, toss Brussels sprouts with bacon grease, olive oil, balsamic vinegar, salt, pepper, and garlic powder.
Bake for 40-45 minutes until Brussels sprouts are golden brown and tender. Add bacon back to Brussels sprouts for the last 5 minutes of cooking.