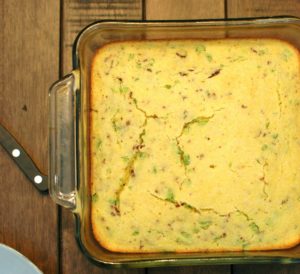 Who doesn't love cornbread? I grew up eating cornbread with meals for dinner, and then we would have it for breakfast in the morning with maple syrup and milk poured over it. Is that weird? My southern husband is a firm believer that cornbread shouldn't be too sweet. So what's a girl to do? Create some loaded savory cornbread that is super delicious and that is even good for breakfast without the maple syrup.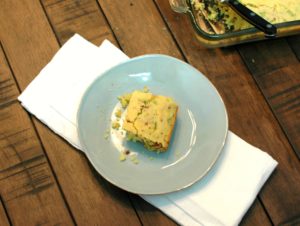 Bacon Jalapeno Cornbread
Prep time:
Cook time:
Total time:
Serves:
9 squares of cornbread
Loaded cornbread to compliment just about any main dish!
Ingredients
1 cup yellow cornmeal
1 cup all-purpose flour
1 tbsp. baking powder
¼ cup sugar
1 tsp. salt
1 cup milk
⅓ cup canola or vegetable oil
1 large egg
2 jalapeños, seeded and finely chopped
10 slices bacon, cooked, drained, and crumbled
Instructions
Preheat oven to 400 degrees Fahrenheit.
Spray 8 x 8 baking pan with non-stick cooking spray.
In a medium bowl, whisk together cornmeal, flour, baking powder, sugar, and salt.
In a separate bowl, whisk together milk, oil, and egg.
Add wet ingredients to dry ingredients and mix until combined.
Fold in jalapeños and bacon.
Pour batter into prepared pan.
Bake for 20-25 minutes until edges are golden brown and toothpick inserted into the center comes out clean.
Allow to cool before serving.