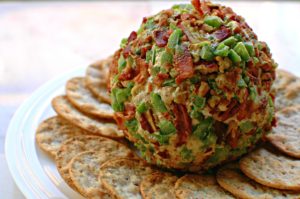 Can we all just agree that bacon and jalapeños go together? With the saltiness of the bacon and the spice and crunch of the jalapeño, the only thing that could make the combination better is cheese. And that's exactly what I did! This bacon jalapeño cheese ball recipe is here just in time for the holidays.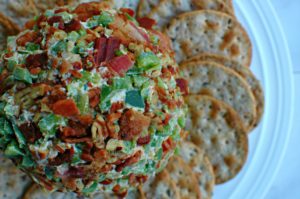 Cheese balls are super easy to make, and they are the perfect appetizer for this time of year. Easy to transport, a pretty addition to the table, and delicious, they truly check all the blocks. If you've never made a cheese ball, let me assure you that they are very easy to make! The key is spraying your hands with some nonstick cooking spray or rubbing vegetable or canola on them before you make the inside portion of the ball. Then all you need to do is roll it in the exterior coating and you're good to go! I usually make them in advance and refrigerate them until it's time to serve them, but you can certainly serve them right away if you need to.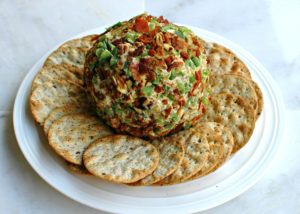 When it comes to big holiday dinners, there's a lot of focus on the main course. But when you have guests mingling with cocktails in hand prior to dinner, it's nice to have a few snacks and appetizers out to munch on that won't take too much time to make or feel so indulgent that you aren't hungry for the main course. Usually if I'm hosting a big dinner, my go-to appetizers are some type of cheese ball, maybe a cheese board with salty olives and this cranberry hot pepper jelly, and crudités with dip or hummus. If you'll have a big crowd of people mingling between different rooms, you can always set out some roasted spiced nuts in small bowls.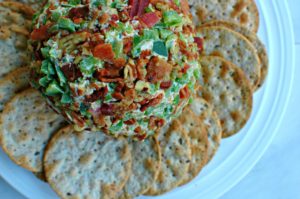 Snacks like these strike the perfect balance. Your guests won't be starving wondering when dinner is but they won't be so full that they don't enjoy the meal. If you are the guest going somewhere for dinner, this is a great appetizer to volunteer to bring! Let your host focus on the main course while you bring something simple, but full of flavor, like this that won't take up too much precious counter space. I assure you that everyone will be asking for the recipe!

Bacon Jalapeno Cheese Ball
Ingredients
3 jalapenos, seeds removed, finely diced
10 strips of bacon, cooked, drained, and crumbled
1 block of cream cheese, softened
1 cup shredded cheddar cheese
½ tsp. salt
½ tsp. ground black pepper
Juice of 1 lime
½ cup chopped toasted pecans
Crackers, for serving
Instructions
Split the jalapeños and bacon between two dishes. One should be a medium-sized bowl where you'll be mixing the cheese bowl and the other should be a shallow dish where you'll be rolling the cheese ball.
To the medium-sized bowl, add the cream cheese, cheddar cheese, salt, pepper, and lime juice. Mix to combine. Use a spatula to scrape the cheese mixture down from the sides to make it easier to form into a bowl.
To the shallow dish, add the toasted pecans.
Oil your hands using nonstick cooking spray or with a few drops of vegetable or canola oil. Pick up the cheese mixture and pat to form a ball.
Roll the cheese ball in the jalapeño/bacon/pecan mixture.
Refrigerate until about 15 minutes before serving to allow it to soften enough to spread on crackers.
Serve with crackers!