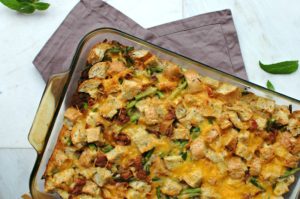 Everyone needs a good breakfast casserole in their back pocket, especially around this time of year. Having out of town guests is wonderful, but can also be a little stressful to make sure the house is tidy and meals are prepared. Strata is a great choice to make for breakfast because it is made the night before serving, and this version is packed with a variety of flavors from the asparagus, bacon, and cheddar cheese.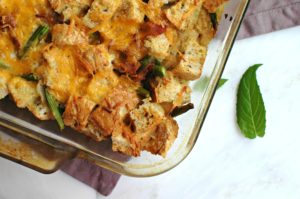 If asparagus isn't in season, you can certainly substitute frozen spinach that is thawed and squeezed dry, but I highly recommend using the asparagus if it is in season. This recipe coms together so quickly and is made the day before serving. In the morning you simply let the casserole come to room temperature and then throw it in the oven. It's perfect for any time of the year when you have out of town guests, or anytime you're hosting a brunch, bridal shower, baby shower, etc. Any event that occurs in the morning where you're looking to save yourself some time would be perfect for this strata.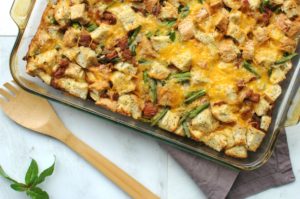 But you don't just have to save this recipe for special events. It's easy enough and family-friendly, so feel free to make this on a Friday or Saturday night when you're planning for a lazy weekend morning the next day. I made this on a Saturday night to enjoy Sunday morning and even had leftovers to warm up during the week for breakfast for the boys and I.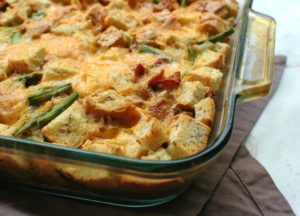 Asparagus and Bacon Strata
Prep time:
Cook time:
Total time:
Ingredients
2 tbsp. olive oil
1 bunch of asparagus, woody ends removed, cut into 1-2 inch pieces
1 medium yellow onion, diced
8 cups cubed French bread
1 lb. of bacon, cooked and crumbled
9 eggs
2½ cups milk (I used whole milk)
2 tbsp. Dijon mustard
1 tsp. salt
½ tsp. ground black pepper
½ tsp. nutmeg
1 cup shredded cheddar cheese
Instructions
Heat olive oil in a large pan. Add asparagus and onion and cook until onions are translucent.
In a medium bowl, whisk together eggs, milk, mustard, salt, pepper, nutmeg, and shredded cheese.
Spray a 13 x 9 baking dish with nonstick cooking spray and spread ⅓ of the cubed bread on the bottom.
Add half of the asparagus and onion mixture and half of the bacon on top of the bread.
Top with another ⅓ of the cubed bread.
Add the other half of the asparagus and onion mixture.
Top with the remaining bread.
Pour egg and milk mixture over the bread. Press down gently with your hands on the top to ensure that all bread has been been soaked in the in egg mixture.
Let sit in the refrigerator overnight (at least 8 hours).
When ready to bake, take the strata out of the refrigerator 30 minutes before baking.
Preheat oven to 350 degrees and bake for 45-50 minutes.
Serve warm!