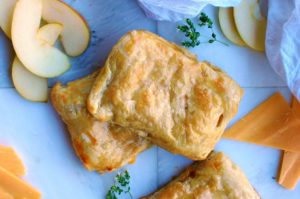 I think a lot of us probably have the foods we ate as kids that were a rarity. For me, pop tarts fell into that category. I'm not sure if that's due to their lack of nutritional value or not, but for some reason they weren't a frequent purchase at the grocery store. My favorite flavors were the brown sugar and cinnamon and the classic strawberry. I haven't had a pop tart in years, and now that I know how easy it is to make them at home, I may never go back! The exception for me is when I run long-distance races. When I'm running for 24+ hours, I eat anything and everything that sounds good in an effort to keep my calorie intake up. Since I generally only race a few times a year, any other time that I'm craving a pop tart I'm probably making one at home.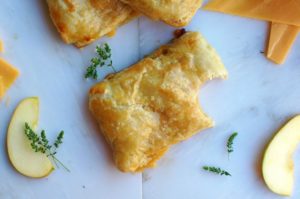 If you can buy puff pastry from the freezer section of the grocery store, you can make homemade pop tarts. You can fill them with jam, jelly, peanut butter, Nutella, or slices of apple and sharp cheddar cheese like I did here. When I've been pregnant, I usually feel hungry for an afternoon snack the second half of my pregnancy. I try to keep that snack fairly healthy with a protein punch by snacking on apple slices with peanut or almond butter and a few slices of cheddar cheese. We always buy a large block of Tillamook sharp cheddar cheese from Costco every time we go, so there is never a shortage of it in our house. My pregnancy snack combination inspired these pastries.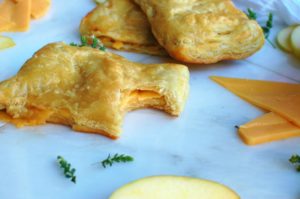 It's amazing how quickly these are to make, bake, and enjoy. They are best enjoyed once out of the oven, but I don't think that will be a problem!

Apple Cheddar Pop Tarts
Prep time:
Cook time:
Total time:
Ingredients
1 apple, thinly sliced*
3 slices sharp cheddar cheese
1 frozen puff pastry, thawed but still refrigerated until use
2 tbsp. brown sugar
1 egg, beaten
Sea salt, for sprinkling
Instructions
Preheat oven to 375 degrees Fahrenheit. Spray a foil-lined rimmed baking sheet with non-stick cooking spray.
Roll out puff pastry slightly with a rolling pin. Cut pastry to form 6 rectangles (for 3 pastries).
Top 3 pastries with apple slices, cheddar cheese, and brown sugar.
Dab the edges of the pastry with water and place the second pastry on top.
Press down the edges with your fingers or a fork.
Using a knife, cut three slits into the top of each pastry.
Brush each pastry with the beaten egg and sprinkle with sea salt.
Bake for 15 minutes until golden brown.
Let cool slightly before eating. Enjoy!*
Notes
*I like honeycristp for this recipe.
*Most frozen puff pastry comes with two per box. For 6 pastries simply double the recipe and use both pastries!